M.Sc. Epidemiology
Epidemiology examines which factors protect, maintain or improve the health of individuals and populations, and which factors are harmful and cause diseases. As socioeconomic and environmental conditions are evolving worldwide, new health risks are gaining relevance in different populations. It is therefore particularly important to recognise emerging health or disease trends as well as the factors driving those. Epidemiological knowledge enables a better understanding of the dynamics of diseases and ill-health conditions and provides a solid scientific basis for health measures.
The master's programme at a glance
Main focus
Epidemiology;
Quantitative methods;
Epidemiological fields of application;
Research-oriented
Students/Semester
30-35
Language
English
ECTS
120
Regular duration of study
4 semester
Admission requirements
Completed Bachelor's degree
Passed entrance exam (written/oral)
Our students' backgrounds and career opportunities
Our students come from different disciplines and have a wide variety of backgrounds. Approximately 75% of our students are international, coming from almost every continent in recent years. A master's degree in epidemiology opens up career opportunities in many areas. Our students acquire solid theoretical and practical skills that qualify them for a career in science, but also in industry. After graduating, some of our alumni decide to pursue a PhD diploma or continue working in research at the university. Other graduates work in the pharmaceutical industry, in consulting agencies, at health insurance companies, clinical research organisations and in governmental and non-governmental organisations.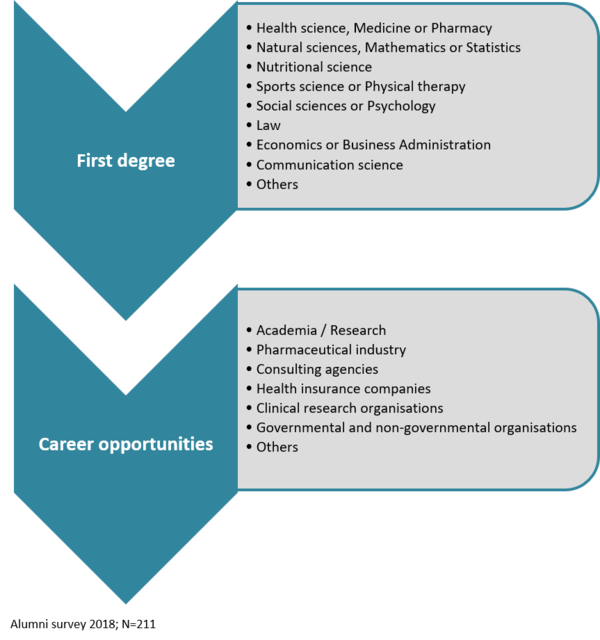 Information brochure on the master's programme in Epidemiology in Munich